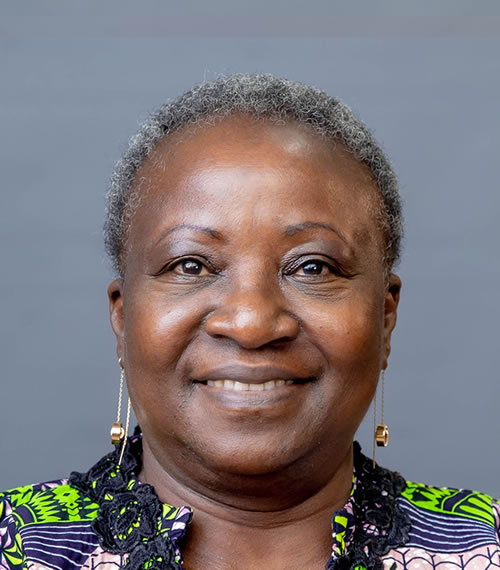 Personal Information
Prof. Alash'le Abimiku
Executive Director IRCE
Achievements & Awards
Professional Qualifications :

B.Sc, M.Sc, PhD.
Brief About Prof. Alash'le Abimiku
Biography
Prof. Alash'le Abimiku is the Executive Director of the International Research Center of Excellence of the Institute of Human Virology Nigeria (IHVN). She is a Professor in the department of Medicine at the University Of Maryland School Of Medicine, a Co-founder of IHVN, and Executive Director, Laboratory Diagnostics and Research at IHVN.
Through the International Research Center of Excellence (IRCE), she is building a world class platform for the implementation of research and clinical trials at international standards. Prof. Abimiku is also fostering collaboration between Nigerian researchers and their counterparts globally.
Her career for over 30 years has distinguished her as an academic, scientist and researcher who has blazed the trail in promoting quality laboratory medicine practices in Nigeria and Africa. In 1993, her post-doctoral research was the first to document the unique HIV strain prevalent in Nigeria as HIV subtype G, different from the subtype B circulating in Europe and USA. She also established the first reliable HIV research laboratory in Central Nigeria and chairs the Board of Directors of the African Society for Laboratory Medicine (ASLM).
As Principal Investigator of over ten grant awards and co-principal investigator to several other grants, Prof. Abimiku has built laboratory infrastructure, and research capacity in in Nigeria and trained both in-service and pre-service laboratory personnel.
Her research interests are in the epidemiological characterization of viruses and HIV disease models from selected target study populations in Nigeria to understand the pathogenesis of HIV and co-infections; and protective mechanisms through HIV vaccine research.
She is currently a member of the International Scientific Advisory Group for University of Cape Town and serves as a member of the Scientific Advisory Group WHO R&D for preparedness for Epidemics, member of the steering committee of WHO Global HIV Drug Resistance Network (RESNET), member of the Coalition for Epidemic Preparedness Innovations (CEPI) , fellow of the African Academy of Science, and member of the Nigerian Institute of Medical Research (NIMR) Research Advisory Board.
Prof. Abimiku obtained a doctorate degree in Medical Microbiology from the London School of Hygiene and Tropical Medicine in 1988. She had earlier earned a Master's Degree in Immunology/Virology from the same university and a Bachelor's Degree in Microbiology from the Ahmadu Bello University Zaria, Nigeria.