Picture above: L-R IHVN Chief Operating Officer and Managing Director, Dr Charles Olalekan Mensah; IHVN Chief Executive Officer, Dr. Patrick Dakum; Representative of IHVN Board Chair, Prof Emeritus Umaru Shehu, his son, Mr. Mahumud Shehu; IHVN Co-Founder, Prof William Blattner; Board Director Sir Steve Omojafor; US Acting Deputy Chief of Mission, Mr. Ralph Olson; USCDC Country Director, Dr Mary Boyd and Executive Director International Research Center of Excellence, Prof Alash'le Abimiku cutting the commissioning cake.
The United States Acting Deputy Chief of Mission, Rolf Olson, has commended the Institute of Human Virology Nigeria (IHVN) for its years of commitment in improving the health of Nigerians.
Mr Olson said this during the official commissioning of the IHVN Campus consisting of a seven- story twin tower in Abuja. "The work you do here not only protects the health of the people of Nigeria but people around the region," he said.
He re-iterated the US government's commitment towards impacting the health of Nigerians in a positive way, strengthening health security and establishing Nigeria as a leader in public health science.
"The US government's current sub-Saharan Africa strategy reiterates our commitment to health security in the region, and through our agencies like CDC, we are able to work toward the vision of a world where people live healthier, safer, and longer lives. CDC's mission is to protect and improve health globally through science, policy, partnership, and evidence based public health action. These actions, driven by science and data, are a core component of the US government's global health diplomacy efforts in Nigeria," he added.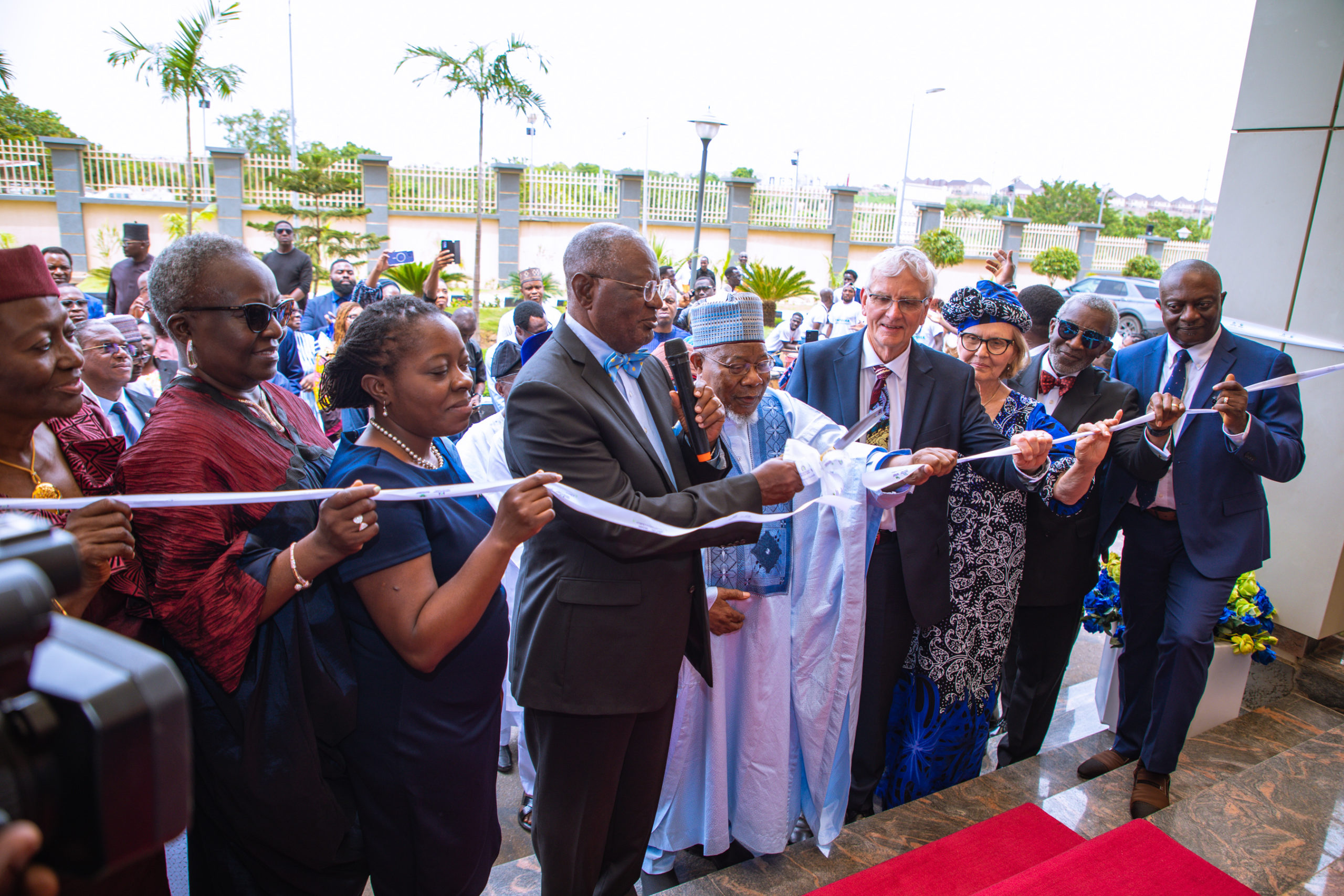 Picture above: Board Director Sir Steve Omojafor, officially opening the IHVN Campus, a seven story twin tower in Abuja; he is flanked to the left by USCDC Country Director, Dr. Mary Boyd, IRCE Executive Director, Prof. Alash'le Abimiku and Board Director Ms Josephine Tapgun; to the right are, Board Director, Dr. Umaru Mutallab, IHVN Co-founder and His Wife Prof William Blattner & Mrs Diane Blattner, Board Director, Mr. Foluso Phillips and IHVN CEO, Dr. Patrick Dakum.
Also at the event, IHVN Board Chair, Prof Emeritus Umaru Shehu, said that the commissioning of the IHVN Campus gives hope that, "we can curb today's emerging diseases of public health concern.
The Board Chair whose speech was delivered by Board Director, Sir Steve Omojafor, said that the campus facilities would inspire young scientists to develop and execute research projects under the mentorship of more experienced investigators.
"I predict that with facilities such as the ones you find on this campus, Nigeria will soon become the destination for medical tourism, clinical diagnostics, treatment and care for people with infectious and non-infectious diseases."
The campus has a biorepository with liquid nitrogen facilities, a genomic resource center, clinical pathology, molecular diagnostics, chemistry &hematology, and microbiology laboratories as well as a Clinical Trials Unit
According to IHVN Chief Executive Officer, Dr Patrick Dakum, these facilities "will be a home for conducting clinical trials that specifically state how vaccines or drugs work in our population and the adverse effects observed."
The event was witnessed by guests from the University of Maryland Baltimore, Co-founder of IHVN, Prof. William Blattner, representatives of government agencies, implementing partners, beneficiaries of projects, the private sector, public health experts, media amongst others.